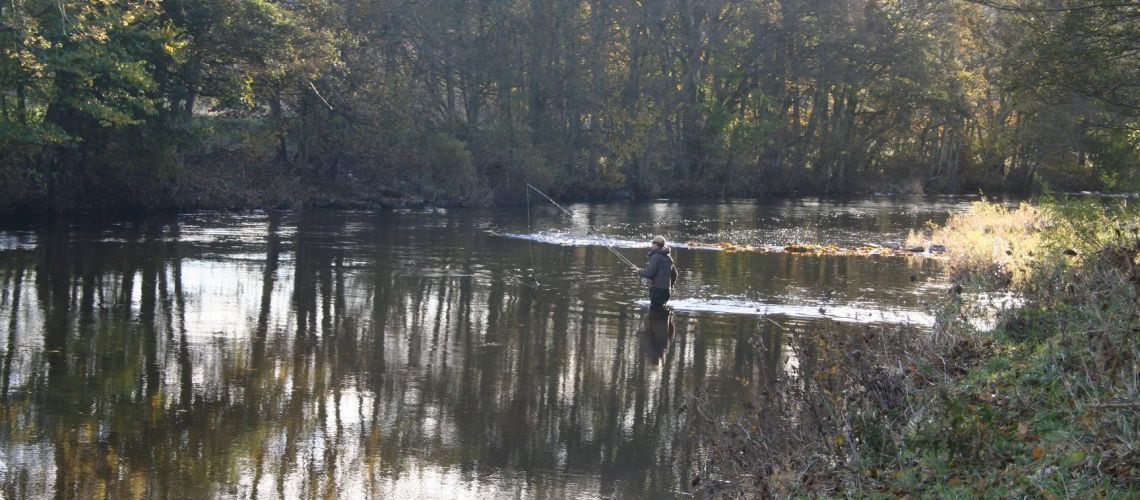 Facilities, Rules and Guidelines
Toilet Facilities
There are two comfortable composting toilets for the use of anglers on the beats. One is located behind the Castle Beat hut (David's Treehouse), a few yards from the car park. The other is 100 yards from Indies hut, by Melgund Pool.
Fishery Rules
The season extends from the 16th February until 31st October. Anglers do not require a Rod Licence to fish for salmon or sea trout in Scotland.
We find that our visitors are aware of the need to be careful and conservation-minded, so we try to avoid telling them how to fish, or what to do in the event of catching a salmon or sea trout. However it is worth noting that The South Esk is a Category One River, which means that the river's salmon stock is healthy, but that good practice is always required. We therefore ask our anglers to refrain from killing any coloured fish and preferably not to kill any salmon over 7lbs. It is the law in Scotland that no spring salmon are to be killed. If you are in any doubt please ask Iain MacMaster, or visit the Esk District Salmon Fishery Board website for the details of conservation policy for the South Esk. As far as sea trout are concerned we ask you not to kill more than you can eat, and avoid fishing for the freezer. No sea trout of over 3lbs should be killed.
Use single or barbless double hooks
Fishing with worm and prawn are not allowed
All tackle which has been used abroad must be disinfected to prevent the accidental introduction of Gyrodactylus Salaris
Following the Scottish Fishery Review these guidelines may be changed slightly. We will, of course, keep our visitors updated.
Catch and Release Best Practice
Use appropriate tackle, play fish quickly and use a knotless nylon net
Keep the fish in the water as much as possible
Handle the fish as carefully as possible with wet hands
Support the fish facing into the current until it has recovered, then let it go
Recording your Catch
Please enter a record of any fish you catch in our log books, which are found in each beat's hut. Please make sure you record your catch in the correct log book.
If you can't record your catch or you forget to do so, please do tell us by phone or email.

Tackle and Tactics
A 13' modern carbon rod with a selection of leaders from fast sinking to intermediate is fine for fishing for salmon in the spring and autumn. There are occasions when it is necessary to cast a large or heavy fly, but these are generally confined to the early spring and late autumn. Summer salmon fishing at times of high water is best done with the same tackle, although some people like to use lighter tackle during the warm days of late June, July and August.
As far as sea trout and grilse fishing is concerned, I find a 10'6" trout rod with a selection of light lines (6/7) and a range of leaders perfect for covering Finavon's pools and streams. Use of the nymph and dry fly can very occasionally bring rewards but conditions have to be perfect – mainly in the form of a shoal of fresh salmon recently arrived from the sea!
A good maxim for fishing at Finavon is "Fish quietly, fine and far off if you can, and keep the fly moving". Good field craft is the order of the day. Treat each pool as a challenge: ask yourself, "how do I approach this pool in a way that enables me to present the fly to the fish (I can see where they will be lying) and avoids any possibility of my frightening the fish with noise (crunchy gravel) or shadow, shine or silhouette from me or my rod and line?"
Enjoy the challenge and think of every fish caught as a bonus.
Local Tackle Shop
Angus Angling, 117 East High Street, Forfar - 01307 466 366